On Monday morning I woke up feeling the need for a little pampering to start off a brand new week. Luckily Durban is spoilt for choice when it comes to spas, salons and other places that can fulfill your every pampering need, but, for a number of reasons I enjoy taking myself off to uShaka Village Walk where I can pop in to their Mangwanani branch. I decided to make it a 2-for-1 and do a short review on uShaka Village Walk at the same time!
Quick Reminder: Rating Criteria
My criteria for reviewing accessibility in public establishments are simple and I'll try to stick to my fields of expertise, ultimately sharing my ♿️rating out of 5. I'm no food fundi or aromatherapist so although I will add my opinion on those types of aspects, my focus will always be on accessibility. Criteria include:
Overall space: table height, floor space, 180 and 360 turning space, etc.
Floor surface: carpets, level changes, texture
Entrances: automatic door opener, door width, ramp, etc.
Toilet facilities: handles, grab bar, sink height, stall measurements, etc.
Outdoor space
Parking

uShaka Village Walk
uShaka's Village Walk is "home to one of the most unique shopping experiences, offering a shoppers paradise in an open air environment, affording guests a world of entertainment, family fun, shopping and dining. Open all year round from 09:00 – 18:00. Entry is FREE. The Village Walk is a true assault on the senses, with a host of unique outdoor adventure stores, variety of curio stores and a full flavour of surf and ethnic clothing stores creating a retail heaven and culinary adventure rolled into one." (www.ushakamarineworld.co.za/village-walk)
For a comprehensive list of restaurants, clothing stores, curio shops and many others visit www.ushakamarineword.co.za/about-us/tenant-directory
Since opening its doors on 30 April 2004, uShaka Marine World, but more specifically its Village Walk, has been one of Durban's key attractions on our Golden Mile. It is truly comfortable for me to choose as a wheelchair visitor and it's the one place I know I can go to completely unassisted when I feel the need to combine the beach, a little shopping, a good meal and, like on Monday, intense relaxation and pampering.
uShaka Village Walk: Short Review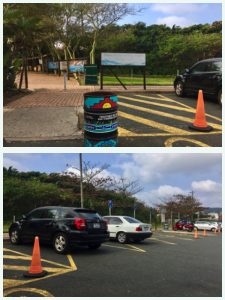 Parking: Parking is a breeze and a pleasure with a decent number of disabled/wheelchair parking bays situated closest to the main entrance.  An appropriate ramp leads one onto the paved walkway and up to the entrance. Although it seems fairly steep, I am able to wheel myself completely unassisted. I would prefer a flatter cobble paver if I could choose the paving used on the walkway, but the short commute to the entrance is definitely completely do-able, slightly reminiscent and definitely easier than some places we have visited in Europe! So, little complaints there.
Entrance and Outdoor Space: The entrance to uShaka's Village Walk is wide and really easy to manage. I have been there in peak season and despite hundreds of people visiting, it remains fairly effortless to get in and around. The passage walkway between shops is also wide and really manageable regardless of high volume traffic and allows for easy wheeling around. There are several areas along the walkways, both inside the village walk as well on the outside to take a quick pitstop or have a breather.
Floor Surfaces: I have always loved the visual aesthetics of the Village Walk's floor design but even more importantly is the ease it allows my wheelchair to get around. Overall floors on all walkways were designed as screeted cement floors, with inlaid pebbled areas and intermittently the smooth finish was changed to a somewhat courser one. However, overall the floor surfaces are only a pleasure to wheel over with no obscure bumps, nooks or crannies and really well maintained.
Ramp areas connecting different levels were well designed, ensuring a fair and appropriate incline, using similar floor surfaces as the walkways. I have been there on rainy days and it remains manageable and safe despite being wet. Well done on the floors uSh
aka!
Toilet Facilities: Designers chose a standard disabled toilet design with the required space, toilet height and grab rails. The only issue I experienced was with the tap handles, which are quite challenging since it's a push button design that requires the user to keep pushing down to expel water. I can only imagine how challenging it will be for someone with restricted mobility in their arms and hands, not to mention that it becomes really tricky to manoeuvre with a catheter etc. to contend with as well! I have also only ever seen and used one disabled toilet facility in the walk and I can attest to the fact that it definitely gets used as an additional toilet for able bodied visitors during peak seasons – which reduces our options to zero! I really hope that I have missed the other toilets if there are any, since one definitely is not enough for such a busy attraction.
Other Aspects: I have visited a number of the Village Walk's shops over the years and have tried out several of the clothing stores' fitting rooms. Not unlike most of our other large shopping malls, I would love to see some improvement in that regards. I could not fit into any of the fitting rooms I tried out in several stores, suggesting that – as I've said countless times before! – moms with prams will definitely also find it challenging to try on that little summer outfit that caught their attention, with their baby or toddler in a pram. I realize that space is often an issue, but careful planning and design can make all the difference. How about it uShaka, what about setting the standard for others to follow?
A "thumbs up" from me
Born and bred in Durban, I will admit that I am a little biased I suppose, but overall I enjoy the vibe and the ease that uShaka Village Walk provides for me to get out and feel like a tourist for a while in my own home town. It's generally accessible and taking merely the Village Walk into consideration – excluding each shop and their respective challenges such as small fitting rooms – I give it the Walk a respectable 4♿️ rating!