Women's Day in Durban, South Africa – 9 August 2017 – delivered a gorgeous day, begging to be spent on the beach…and so we complied! The mid-week break offered a welcome opportunity to reload in the fresh ocean breeze with a brisk walk along the north beach promenade, followed by a scrumptious brunch at one of the local restaurants.
An Outing And a Very Brief Review
I don't consider every outing I go on simply in terms of a review, but while I'm out and about I keep my eyes on accessibility issues and take note of the challenges an area may present me with. Occasionally, however, I slack a little and let some things slide. Whilst Wednesday fit into the latter category, I grabbed the opportunity to check out the gardens adjacent to the amphi theatre, focusing only a couple of minutes' attention on their accessibility. I felt like simply enjoying the summery vibe instead of kicking into review mode – although that's near impossible most of the time!
Durban's North Beach
Considering that it was a public holiday, the beach was fairly busy and finding parking space was definitely challenging. However, we were very fortunate to find a vacant disabled parking bay close to Circus Circus and the skate park entrance to the promenade. Access to Circus Circus though was near impossible with a 10 meter line of people waiting to enjoy a meal – we chose to pass, enjoy our walk and find another spot further down the beachfront to have brunch.
The wide paved promenade really makes for easy wheeling and despite loads of people frequenting the area, I really enjoyed my morning exercise session with little to no obstacles along the way. We stumbled onto "California Dreaming", a restaurant along the promenade that I found most inviting given that they had a designated ramped entrance I chose not to resist. Their staff were welcoming, unlocking the wheelchair entrance gate without much delay and ensuring quick and efficient service. I could wheel in-between tables and chairs on their deck with space to spare and could manoeuvre myself around without assistance. Always a bonus! I didn't use their toilet facilities, so I can't comment on that at all. The exit from our table was just as painless with another ramp leading back onto the promenade. Delicious brunch done and dusted with ease.
By then the wind had picked up quite a bit, so we decided to stroll back to the car taking a detour into the gardens adjacent to the amphi theatre along the way. I hadn't been there for years and given my affinity for anything gardening-related, I couldn't resist.
Gorgeously Inaccessible Gardens
At first glance, the gardens did not disappoint. They are beautifully maintained and I thought it was no wonder there were groups of people picnicking, strolling around and even a film crew filming an interview of sorts. Unfortunately, my delight in the gardens were short lived since I quickly realized that I could only enjoy the beauty from afar. The gardens are completely inaccessible offering no ramp access of any kind into the various flower beds, pergolas, paths or any part of the actual gardens. We looked on both sides of the amphi theatre but couldn't find any access for me at all, which left me somewhat surprised and really annoyed. The only visible ramps remotely close to the gardens was the one joining the amphi theatre level to the road above.
Given the layout it will be simple to landscape a paved path leading into and through the gardens, allowing wheelchair visitors and even moms with prams to enjoy their beauty first hand.
I was truly disappointed to find that one of the most relaxing parts of the north beach area had obviously been upgraded and maintained fairly recently but, unfortunately, kept exclusive in its design. While I realize that the gardens were originally designed many years ago, I believe that constant upgrades and ongoing maintenance have provided more than enough opportunity over the years to make provision for Durban's disabled visitors, both local and from out-of-town.
A More Sweet Than Bitter Experience
Our day had started off so well that I wasn't going to allow the disappointing, inaccessible garden experience to spoil what was left of our morning. So, I let that go and pushed forward enjoying the beautiful piers and a windy ocean view of Moses Mabhida stadium.
The various piers leading quite far into the waves are well maintained, safe and a makes for an adventurous, really accessible outing. Sitting at the very end of the pier made me feel so close to the crashing waves that it even tinged the odd spurt of adrenalin within! I am no selfie queen, but we couldn't resist taking a couple in that gorgeous setting, battling hair all over the place in the almost gale force wind. 180° views of the sea and 180° views of the Durban beachfront coastline provided ideal photo opportunities even for amateurs like ourselves…!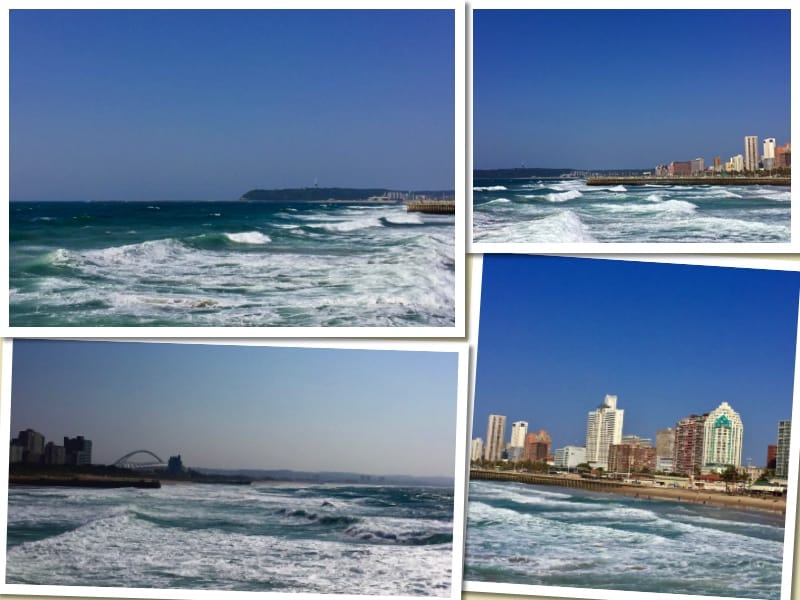 We made our way back to the car having enjoyed a more-sweet-than-bitter morning on Durban's north beach promenade. I can only hope that some creative city landscaper takes the initiative in the near future to make some changes to the gardens to sweeten the experience for disabled visitors even more!
Help me to get this out to the necessary powers-that-be by sharing it wide and far.
What is your opinion of Durban's north beach promenade?