There are times when we all face the same challenges and it's during those times that size actually does matter. Whether you're wheelchair bound or someone with a baby sleeping in a pram, we all have to try on clothes in a fitting room from time to time and it can become pretty tricky and very frustrating if the space does not allow you to perform this very basic activity, not to mention revenue probably going to waste in the inaccessible store.
I recently went to Gateway, listed as the biggest shopping mall in the southern hemisphere, situated in my hometown, Durban, where I attempted to try on clothes in Cotton On, one of the clothing stores in the mall. I waited in line for a fitting room to open and soon realized that I didn't fit into any of the available rooms. Although I could wheel myself into the cubicle I couldn't close the door behind me – much like many other fitting rooms I have encountered over the years in several other clothing stores all over South Africa. My enquiry about an accessible fitting room was received with little interested, shrugged shoulders and a casual response that their bigger cubicle was unavailable since it was being used as a storage space… also not new to me at the time!
By now you're probably thinking: Why am I sharing this on a blog aimed at accessible travel?
While interacting with the sales attendant, expressing my utter dismay at the situation, another lady stepped out of a fitting room and joined the conversation passionately, airing her own dissatisfaction. It turned out that she was visiting from the UK, was on her own for the day and had her sleeping baby in a pram with her. Like me, she was clothes shopping and had items to try on, but couldn't fit the pram into any of the fitting rooms. Understandably, she was not prepared to leave her sleeping baby unattended with strangers so she was forced to try on clothes with the door ajar in full view of passers by. Her alternative was to choose another store to try on clothes based on her ability to take the pram into the fitting room with her. That didn't go down well with her at all, but as soon as she realized the real reason for the accessible fitting room being unavailable at the time, I thought she was going to pop a vein out of sheer anger and disgust!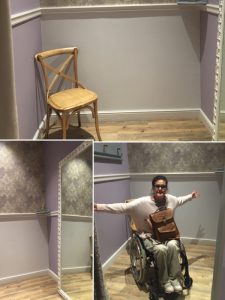 The picture on the left illustrates the only fitting room in CottonOn in Durban's Gateway shopping Mall, big enough to accommodate shoppers with prams or wheelchairs – completely inaccessible due to it being used as an additional storage space. The picture on the right showcases the fitting rooms in the same shopping mall's Poetry store where space is ample and used the way it was intended to be used – as a fitting room!
Our UK visitor and I got chatting, she took pictures, urged me to take the issue further with various creative suggestions about doing so. In that moment she reminded me that my predicament in situations like this was definitely not limited to the disabled community. Although I felt frustrated and angry, I also felt deeply embarrassed since this visitor to my hometown, who could potentially have spent valuable pounds contributing to our economy, who could have encouraged others to add Durban and, better yet, South Africa to their list of must-see destinations, vocalized that she planned to share her experience of indifference, poor planning and incompetence as far and as wide as she could.
The sad part of the whole event was that it was completely avoidable and utterly unnecessary. Although the prevailing indifferent and insensible attitudes, poor planning and overall incompetence in terms of accessibility and associated customer care issues in that store felt infuriating and damaging to our own residents, and in the bigger picture to our tourism and economy, all was not as lost as it felt in that moment. I left Cotton On and continued my shopping ending up in Gateway's Poetry store where I experienced the exact opposite – and hope was restored indeed. I only wished I could find my erstwhile partner in dismay to share in my wonderful find and to restore her views of our beautiful country!
Like countless disabled residents and visitors from all over the world, my needs may be specific to my accessibility requirements, but those needs are not always limited to our disability club – sometimes all of our needs, no matter what our physical abilities or disabilities are, overlap and occasionally size definitely does matter. It's during those times that we need to band together to insist on 'bigger and better', on not simply settling and accepting our fate.
With a collaborative voice we can eradicate indifference and exert incredible change.
Which of your experiences as a consumer can be harmful or demeaning to our residents and to our local or international visitors? Do you get involved in these issues or do you accept your fate?